What can a wholesaler can do to improve his situation? After all, it isn't easy being a wholesaler? 
Here are some critical facts a wholesaler needs to consider every day:
Knowing what goods to buy is the most critical thing.
Managing profitable inventory is the next most important thing, leaving administration (licenses, sales taxes, regulating costs & overhead) as the remaining important area.
Buying, managing/merchandising, and administration are three areas that can make you or break your business.
What is the best indicator of buying the right goods to inventory? Some wholesalers would say profit (or buying profitable goods), which is certainly important but I believe the correct answer is INVENTORY DAYS. Often items with low mark-up, if they turn fast enough, can turn a profit.
The least number of days you hold an item usually means the more profitable that item is. Certainly mark up (gross profit) is extremely important. Examples are all around us:
low priced coffee
doughnuts
used cars
pens
bottles of water
flavored ices
copper tubing
all the above are examples of items that sell (turn) quickly.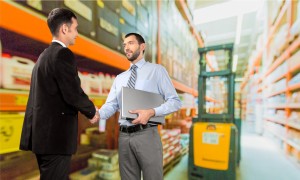 Warehousing costs the company not only in rent (and heat and lighting) but also ties up funds available to purchase more profitable faster turning items. It also may take up warehouse space. And yet so few wholesalers look at inventory turns and inventory days.
How does a wholesaler manage inventory so that it is profitable? Certainly jewelers know the first rule of inventory, which is safeguard it (safeguard all assets). I remember a business that rebuilt and fixed (returned radios and other electronics) from Sears and the like in New Jersey. It didn't take them much time to put up steel gates and security guards to protect the inventory from the employees who fixed, shipped and warehoused the newly fixed (refurbished) radios and devices.
Don't just safeguard inventory from theft or acts of god, but measure the time you hold it and keep it free from being damaged. Some perishable foods and milk have such short shelf lives that inventory turns are the lowest and accounts receivable almost non-existent. We can all learn something from those industries about moving merchandise.
Administration often bogs down the small operator of merchandise. Discount stores, wholesalers of plumbing supplies, auto parts, jewelry, even coat hangers and airplane parts are sensitive to government regulations, registration, sales tax and other reporting. Here is an area where your CPA can help develop or improve your systems for recording sales, internal controls, compliance and reporting. In most businesses, cutting a cost usually results in bottom line profit. It's the absolute best way to have your accountant pay for himself/herself. Even a $3,000 or $5,000 investment in streamlining the sales process through collection can save a company tens of thousands of dollars every year.
Harlan Kahn CPA
---
Don't leave without downloading my free ebook here "Do you own your business – or does it own YOU!"
Great insights to revive the dream.
If you are ready to get more from your business – apply for a free business strategy session here.
Related Material