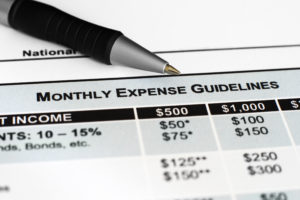 I guess it's rare that people actually sit down and make a personal budget.
Having done my own budget about two times a year I know that it is very confronting to see the truth head on.  The hardest part of making a budget is getting the client willing to discuss it (often amongst each other).
So many times I used to work up people's taxes when I ran an H&R Block office and heard the regrettable question, "How much did we make this year?"
Not once do I remember a happy answer to the truth when I responded with their AGI [adjusted gross income].  Either it was, "How could it be that little," or, "where did it all go?"  It seems to me people here are encouraged to live on 110% of their income.  In Japan, by contrast, people are taught to save 10% of their income.
Click here for a budget template that I usually work with clients in my office on a big tv screen, in Excel.
It's important to make sure you get all ordinary expenses in a personal budget.  I also take note of all credit card balances and interest rates, as to suggest a payoff method that relieves the largest interest cards first.
The hardest item to pin down is often entertainment.  Can you imagine making a rule of just how much you can spend on Friday & Saturday night every week?  I turn this into a game so that you can budget for big events by not spending too much all the time.
Every notice other people who spend a large percentage of their paycheck on purchasing food/coffee daily from outside vendors?  My dad told me at age 9 when I worked in his dry-cleaning store, "You come to work to make your own money, you are not here to make it for the lunch guy" or the soda seller.
When it comes down to a personal budget, it's a lot like a diet. On a diet, if you write down everything you eat every day for a few days, your own mind will tell you to eat better.  With a budget, if you write down all you spend every day for a week, you will become less frivolous with your money.
If you need help with this you can always contact us at [email protected].
Here's to a more profitable year (and healthy too).
Harlan